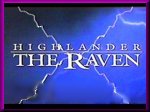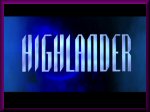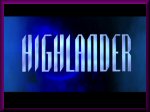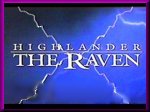 Richard Ridings &amp Marcus Testory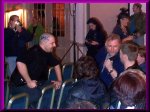 Richard and Marcus came out to the strains of "Everybody Needs Somebody To Love" from the Blues Brothers, complete with shades and Jake and Elwood on-the-spot running. They jumped onto the stage and Richard asked for the first question. Then they left the stage. Asked what Richard had been doing, the two of them immediately dived into the audience and went to sit beside their startled questioner. Did I say into? Into, over, through and quite possibly underneath. If they couldn't reach their... victim seems quite a good word... by going down the aisles and the rows, then they went overland, clambering over the serried ranks of chairs and the people in them to reach their goal. They had a neat double act going that seemed unforced and unrehearsed, but bespoke a natural rapport between the two of them. They also answered many questions with a big grin, so take some of what follows with a large pinch of salt....
Richard told us that he had now finished his role in Luc Besson's "Joan of Arc" and has also completed his work on the TV mini-series about the Yorkshire Ripper. This will be shown in the UK over Easter next year and Richard says that it shows why it took the police so long to catch Sutcliffe. He said he was in Yorkshire at the time and remembers it being a sad place in those days. He has recently worked on the remake of "Randall and Hopkirk Dec'd" and is working on a programme for the BBC called "Nature Boy", about a boy who runs away looking for his father through England, but the England we know today, with protests about genetically modified crops and the destruction of woodland for roads and runways as a backdrop. During this, Marcus had been sat on Richard's knee and, when he got up Richard staggered and moaned.
They said that the differences between Silas and Caspian were in the script, but Adrian had wanted to suggest more and they had found that there was a rapport between the actors as much as there was enmity between their characters. They said the Horsemen had not run amok off-set, being, as Richard put it, "too pissed. In the nicest possible way." (Note - in England, pissed means drunk, not peeved.) He said that Highlander had not particularly made him consider his own mortality, except when the planks gave way beneath him in the submarine base.
Richard said his own CD is coming along, but progress is slow. He said of the filming of "Up And Under" that it was a low budget film, less than £1M, and that the actors had done it for less than they would normally have asked. It had been written as a stage play and was directed by the writer, whose keenness to shoot a scene and move on showed in the final footage, as they had to go back and shoot more to finish the film. He remembered it being cold and wet and that there was a lot of drinking.
Marcus, (referred to as "Max" by Richard, who signs his autographs "Rich"), recently spent a week staying with Richard as they worked on some music together. (Silas and Caspian in the studio together - what a vision.) Richard was asked how he survived and said Marcus was the model guest, cooking and cleaning. Marcus pleaded for his reputation, but Richard carried on, saying Marcus was totally housetrained and the perfect domestic animal. The questioner was the chief Marcus fan present and Richard's train of thought was derailed when her mobile phone rang - with Marcus ringing her to shut Richard up!
They were asked about how it felt to play two of the Four Horsemen and Marcus said it felt very natural. When people laughed, he said his mother says that's how he is in real life. He added that when Valentine hit Richard's thumb with his sword in the blanket scene, Richard was totally professional and didn't yell until the director shouted "cut". He said that his tattoo is the sign of his protective spirit or guardian angel. Richard said that there was no animosity between him and Valentine over the incident. Someone later asked if Marcus' paramedic training had come in useful at that point, Marcus shook his head and said, "I had to stay in character". He said that Caspian was the perfect character for him in the show, whereas Richard said he would have liked a bigger axe. Richard added that the armour he wore for "Joan Of Arc" had restricted movement somewhat and it could get quite wet towards the end. He had asked Besson for an axe, but had been told he must use a sword.
Asked if they were experienced with "swords and weapons and stuff", Marcus admitted to being quite experienced with "stuff", but not with the others. He had a little weapons training from his martial arts background, but it was different, as in Kendo you have both hands on one sword, whereas as Caspian he had two swords to deal with. Richard says he enjoys weapons work, but he's not very good.
On the role they would most like to play, Marcus recalled Peter Hudson's famous comment about what he looks for in a role is a sausage. He is about to start filming a short film in which he plays all the characters and said he would like to play James Bond. Richard said he could see himself as Winnie The Pooh. Asked if they would act together again, Richard pondered the kind of film, saying "He wants to be James Bond. I want to be Winnie The Pooh." They decided that action comedy might be a suitable genre.
Marcus said that his training as a paramedic meant that he does the emergency doctor's job at an accident until the doctor arrive, being responsible for any emergency treatment that is required. He has had 3 years training followed by a year of supervised practice in an ambulance with a qualified paramedic acting as his mentor.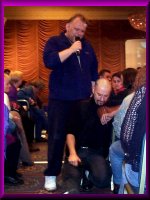 With Richard's distinctive voice, he was asked if he did much radio drama and he said he prefers to be outside, not stuck in a studio. It was OK for making music, but not for drama. The work he and Marcus had been doing recently was for a CD on green issues.
They were asked about their casting and Marcus reprised the story about his friend the storyboard artist, which Richard didn't seem to have heard before. Richard said that he went for the audition and was told that they were casting a big thick Horseman of the Apocalypse. Marcus was asked he wanted to get any more tattoos done after the one on his head and he said it's the only one he has.
They had recently gone to see the premiere of Tim Robbins' film "The Cradle Will Rock" and had both been impressed, Marcus saying it was one of the best performed film he'd seen. Richard singled out a recent Steve Martin film featuring Eddie Murphy as very funny, but he doesn't get out much, having young children. Richard then sat at the front and led some community singing in a rendition of "Swing Low Sweet Chariot".
They then proceeded to auction the leather Highlander jacket that Richard had been wearing, which had been signed by Adrian Paul, Stan Kirsch, Valentine Pelka, Peter Wingfield, Richard, Marcus and Michael J Jackson. Richard promised to get Alexandra to sign it as well. As Richard started the bidding, he sent Marcus out to model the item and Marcus minced up and down the aisle, hamming it up for all he was worth. The jacket went for £550 and, as Marcus returned to the stage, he reached into the pocket and found the Richard's wallet was still in it! The happy bidder came to claim her prize and was claimed by the Horsemen in a big three-way hug.