"He wants to be James Bond. I want to be Winnie The Pooh."
- Richard Ridings
It was billed as the first UK con with Adrian Paul and it lived up to its billing, with the man himself flying in from the filming of Highlander: Endgame in Romania to be with us. Also appearing were Alexandra Vandernoot, in only her second appearance at a convention, and representing the bad guys were Peter Hudson, Marcus Testory and Richard Ridings.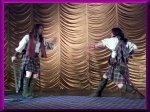 What they all said, as far as I could write it down, is available at the click of a mouse in the pages below. The one session I've not recorded, as it was too visual, was the extraordinary demonstration by the two guys from Clanranald, whose photos appear here. They gave a great show for those who chose to abandon the dealers' room and the bar to attend, using swords, axe and some very small swords indeed to demonstrate their skill. Well worth seeing if you get the chance.
I took the opportunity to test out my new digital camera at the con and the results, I think speak for themselves when compared with the photos in the previous con reports, although a big thank you goes to the tech crew at Wolf 359 for the excellent lighting of the stage, which enabled me to take photos without flash.
Use the menu buttons below to access the individual sessions reports and the sidebar buttons on each page to jump from session to session.