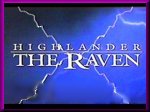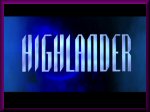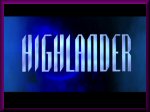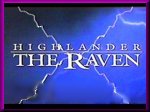 Food, Whips &amp Videotape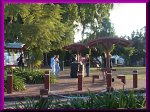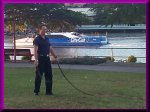 We strolled out across the river to Kurilpa Point on the Friday night for the barbeque. It was a wonderfully cool evening and, as we waited for food, Anthony de Longis gave us a demonstration with the whip which was truly impressive. He initially asked for a volunteer from the crowd, (but did she jump or was she pushed?), but when things got to the point where a bit more trust was required, his girlfriend Mary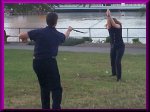 , (who had helped with the morning's sword classes), stepped in. At first he was knocking feathers from her hand and mouth, but he impressed when he flicked the whip and it gently wrapped around her wrists, held above her head as if in prayer. Elizabeth Gracen arrived at this time, circulating and speaking with a the fans in attendance.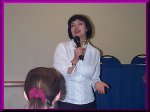 As the night closed in, we returned to the hotel to watch some videos. First up was Elizabeth's documentary, "The Damn Deal", about three female impersonators from her native state of Arkansas. Elizabeth introduced it for us, but a combination of jet lag and the terror induced by Carmel's repeated use of the words "world" and "premiere" meant that she made her excuses and left before the end, unlike Anthony and Mary, who stayed to the end. Before the lights dimmed, Anthony appeared with a bottle of wine and poured Elizabeth a glass to toast her directorial debut. In between the three men being interviewed, there were contributions from an Austrian psychiatrist who bore a striking resemblance to Peter Wingfield dressed as Tootsie and who rambled on in the worst psycho babble. Peter often seemed on the point of breaking up and Elizabeth would later say that she had to keep bringing him back to the point whilst filming.
We had two other treats in store - the trade trailer for "Endgame" was screened, to everyone's delight, and if the movie is as good, we can be assured that it bodes well for the future of "the franchise". Adrian in particular looks in fine form, as we saw from a brief sequence where is fighting four others. (I've read the leaked script and everything I saw fits into the general line of what was there, but not quite….). And finally, an apology. No, not from me, but from Peter Wingfield. Carmel showed a video he had made to say "sorry for not being there", during which he showed us his son. At the end, he said he'd been thinking what he could send to be auctioned and had taken Carmel literally at her word when she said she wanted the shirt of his back. So, he took it off and there is was, in Carmel's hand. The shirt sold in the auction for Au $5,000, about US $3,000 or £2,000.