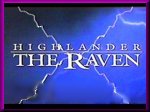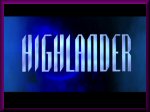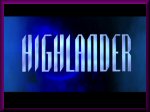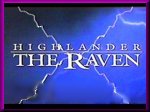 Elizabeth Gracen and Stan Kirsch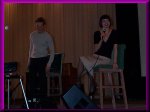 Elizabeth and Stan's session was marked by a lot of humour and a good deal of teasing between the two of them. Stan told us that he was staying with a college room-mate appears who lived in Washington and that they were still good friends. Elizabeth was asked what it was like to act with Michel Modo in Legacy, particularly the scene on the barge. She said that, although he had trouble with his English, he was hilarious and she felt that Maurice was an effective character. She was asked how it felt to be blonde and said that she changed her hair colour all the time. She said it that she had enjoyed being blonde during the making of The Raven until her neck had started to become covered in welts from the peroxide. She said it that she had been a brassy blonde before and that it was true that men treated women differently when they were blonde. She said that she could act ditzy and get away with it. She was asked how she had talked Peter Wingfield into his role in The Damn Deal and she just smiled and said that he was wearing fishnets right now. Stan grinned and added that Peter had flown there as a woman! Elizabeth said that she had got the idea from a film about Carl Jung, where all the patients interviewed had been women. Peter's wife Carolyn had aged his hands and they had filmed it when she was in Toronto, starting to film The Raven. She added that she felt Peter had been a great sport.
Elizabeth was asked what would have happened if The Raven had continued. She said that she was constantly trying to get the old Highlander crew on the show, to which Stan added that they would have found a way to kill him again. Elizabeth said that she had wanted Peter Wingfield as her co-star and that she had wanted Roger Daltrey to appear - she knew that Adrian wouldn't. She said that they hadn't cut off Amanda's head, so the series could continue.
She was asked what it was like to be named Miss America. She said that her mother has a video of the competition, but that she doesn't like to watch it - she always wants to fast forward to the end, when she wins! She said she had an idea when they were down to the final five, especially as to who the first and second runners-up would be, but once her name was announced and she was on the runway, she was lost.
Stan was asked what he's doing it at present and he said that, right now, he's rehearsing a play in Los Angeles which opens on 24th June called A Month In The Country. He's recently completed a film called The Flunky. The website can be found at www.theflunky.com He said that there is to be a screening of the film on 13th June, for industry buyers, in the hope that the film will sell. He said that it stars himself in the title role and other actors appearing are Gena Lee Nolin, Farrah Fawcett and Dean Stockwell.
Elizabeth was asked what it was like to work with Bill Bixby on The Death Of The Incredible Hulk. She said that it was her first starring role and Bill Bixby gave her a lot of confidence - she said that she knew him when he was sick, but that he had a lot of energy and was wild in those years. She said that the last time she saw him, he had become a great listener and was a lot calmer.
She was asked if she felt that the characters of Richie and Amanda were close and how she thought Amanda would have reacted at the news of Richie's death. She said that you haven't actually thought about it - to which Stan said "thanks!". Elizabeth said that she found To Be/ Not To Be to be very confusing and in the midst of all this, turned to Stan and said, "you weren't in Season 6?" Elizabeth said that she felt that Amanda loved Richie and added, "I'm not mean, I'm drawn that way" as Stan milked the crowd for sympathy.
They were asked if they would ever go into politics and Stan said that he loved politics and had worked at the Republican convention in 1984 - he had even been offered a job. Both Stan and Elizabeth would have gone to law school if they had not become actors. Stan said that he felt that television was now a very telegenic medium, with our perceptions of politicians being what we see on TV. He said that he felt the best job in the world would be to be a US senator, at which Elizabeth teased him by saying that a US senator had to have no past and not have been a wild man. Stan said that he didn't know that he be comfortable living with that kind of scrutiny, but he was not ruling it out. After all, the post of King Of The World had been filled by Adrian Paul, or so Adrian kept telling him, he said!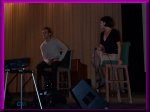 He was asked about the play A Month In The Country. He said that the play was set in Russia in 1850 and that there were several translations of it, but that they were using a translation from 1992 by Freel. Their production was a modernised version and Stan plays the tutor to the eight year-old son of the family who decide to spend a month in the country. The play is a romantic comedy and is set over two days to towards the end of this month and Stan's character becomes involved in a situation that he shouldn't really get involved in. That's not a stretch, said Elizabeth. Stan went on to add that his character was called Alexei, at which Elizabeth added, "sexy Alexei". Stan said that the play will be produced at the Odyssey Theatre in Los Angeles.
Stan was asked what his first reaction was to the Archangel script. He said that Ken Gord and Adrian Paul took him aside during the making of The Ransom Of Richard Redstone, but that Adrian had been taunting him with it for five years anyway. He said that Bill Panzer had given him a call to say that they had had a great idea! He said he found it flattering, in a way, when they presented the idea to him and that by that stage, he was not too attached to the show. However, it was nice to get asked back for Not To Be.
They were asked if they enjoyed doing romantic comedy roles and Elizabeth said that she loved to do them. She said that she and Stan had had so much fun doing the Richard the Lionheart scene from The Lady And The Tiger. She had auditioned for Four Weddings And A Funeral and had suggested to them that they should use a southern girl rather than the New York socialite in the original script - and then they gave the role to Andie McDowell! She said that she's been working with Aaron Spelling and they are close to making a pilot for a new series with Tracey Scoggins and Musette Vander. She said that Aaron Spelling really liked her and was looking to find a character that he could develop for her.
Stan was asked about the sword he used on the show and why he had started with a rapier. He said that Bob Anderson had picked his first sword, as Bob very much liked the Douglas Fairbanks Jr style, but that that sword always broke. He said that the sword broke so many times during the filming of the dojo fight in Something Wicked that Adrian turned and looked into the camera and said that they had to change the sword. When he first started to mention this fight, Stan smiled and said "Go Jim! ". He said that there was no weight in the rapier and that it was difficult to use - the bigger sword they gave him for later episodes was much more effective. Elizabeth said that they had tried to give her a rapier at use in The Raven, but that she had put her foot down. She had wanted a katana and they both agreed that, without taking anything away from Adrian, the katana is a better balanced weapon and easier to use.
Stan was asked about his work on General Hospital. He said that he had appeared for a six-month stint in 1992, up to the time that he started filming Highlander. He played a character called Karl, with no last name. He said that, like all daytime soaps, each episode was filmed in a single day. He said that it was consistent work, but not what he aspired to.
He was asked about the scene at the end of Prodigal Son and replied "what scene?" He was asked how he prepared for the scene and Elizabeth said "onions". He said that there was more dialogue in the script, but that sometimes not all that needs to be said could be said in words and, if he recalled correctly, they had cut some of the dialogue to make it simple and to try and create an understanding and a sadness between Duncan and Richie at this new start. He said that they had film that scene twice, but that the less emotional take was the one that had been used, adding that there's no need for overt emotion if the camera picks up on what you're doing.
He was asked to tell us more about The Flunky. He said that it was not too serious a film and that he plays the ultimate sidekick, one of the breed in Los Angeles who lives off the fame of others. He said that Dean Stockwell plays the King of the Flunkies and he sets Stan's character up with a rock star played by Jimmy van Patten. When the rock star accidentally kills an intruder, he persuades Stan's character to take the rap for murder, but when it decided it's justifiable homicide, the flunky is turned into a hero. Stan said that the film doesn't have a distributor at the moment, but that it's a great opportunity for him. He said that being based on the West Coast, he doesn't get offered work in New York. As he grew up in Manhattan, he would love to appear on the East Coast, but he would have to base himself in New York for that to happen.
Elizabeth was asked who was the better kisser - Stan or Adrian? She said she hadn't kissed Stan, a which he pointed out that she had. Elizabeth grinned wickedly and said there's the answer. When Stan reminded her that it was in Double Eagle, she said that that was manipulative kissing. "Isn't it always?" asked Stan, before adding "Elizabeth is a better kisser than Adrian. Hands down. And Peter Wingfield is better than them all!"
Stan said he had little experience of sword work in college and that he had trained as he went along. He said that the scene in an Eye For An Eye where Duncan trains Richie in the mountains was more or less done for real, as they took two cameras with them and Adrian taught Stan. Most of what you see was not scripted and was improvised by Adrian. The he said that he felt his fights had lacked something, as the normal sequence is to learn the mechanics of the fight, just as you learn the lines in the script, and only then can you explore the motives. He felt that the fights got better as the seasons progressed and that he really enjoyed his fights with Adrian. He said that Adrian really comes at you and you don't have time to think, you just defend yourself. He said that when they filmed the fight in Something Wicked, they were really flying through the dojo. He said he's not done any sword work since Highlander, but would love to. He said his favourite fight was the fight with Adrian in Something Wicked.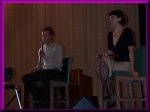 Elizabeth was asked about The Damn Deal. She said that she had been having her hair done when she overheard the conversation between the last guy in the film and the client whose hair he was doing. He was a female impersonator and it was a while later that she approached him with the idea to film him talking whilst he morphed into his female persona. When she approached him, he told her that there was a pageant that night in Little Rock and he took her along. There were only two competitors in the pageant and she was amazed to see that it took them hours to get ready. Stan chipped in by saying that it only took him a couple of minutes to get made up as a woman and Elizabeth replied that he was much more feminine than those guys! She said that the film that is what it is and that those guys were very honest.
Asked where they would like to go back for a vacation, Elizabeth said that she had made a mini-series called Sands Of Time in Croatia, at an exquisite place that was about four hours south of Venice. Stan said that the only place he had been outside the US was France, but that he would love to go back to Paris in springtime.
Stan said that he had gone to college to do political science, but found that he enjoyed acting more. He said he had felt that his parents were remarkably supportive at the time, but he now realised that his dad was older and wiser and that if he had had a few years of rejection, he probably would have moved on, whilst still being young enough to have enough time to make career for himself. They had realised that he was passionate about acting, to which Elizabeth added that he looks like Paul Newman.
She was asked about Jim and Valentine Pelka appearing on The Raven and said that it was great for him to be himself, then clarified what she meant by saying she meant for Jim to play Joe again. She said she had great fun making those episodes, as she had never met Valentine Pelka before and he was great to work with. She said that she had really enjoyed using the fans on The Raven and that she had worked with a martial-arts teacher in Toronto. She said they had talked about making a video and that she would love to do some fan workshops at a convention.