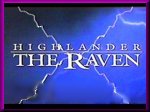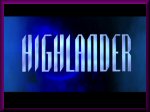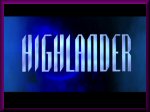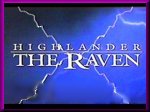 Richard Ridings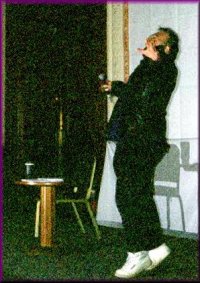 And so to the last of the Horsemen. Richard had never been to a convention before and decided to introduce himself before taking questions. He described Silas as being very open, almost childlike, but at the same time a beast, (he leered), and thoroughly evil. And, of course, he never got the monkey. Richard himself went to University to do a law degree, but ended up leaving with a drama degree. He started appearing in children's TV shows and got more work from that. He joked that he did his post graduate degree at the Bristol Old Vic. Having introduced himself, he asked for questions and a familiar voice from the back asked, "what's best with rodent - red or white?" Marcus made his escape as Richard asked for sensible questions.
The big fight on Revelation 6:8 had nearly ended in tragedy. The axe that Silas used was not well constructed and, as the fight got into the submarine pen, Silas is supposed to force Methos backwards down the ramp. The stunt man taking Peter's place fell backwards, but the axe head fell off as Richard swung, hitting the man in the back of the head. He carried on, even though Richard was a bit concerned about the blood pouring from the back of his head.... Richard said that he and Peter had camped it up a bit during the filming of the fight, as there was a lot of standing around between takes. He couldn't remember what he had been yelling at Peter during the fight, but agreed with the suggestion that it could have been "traitor!". Asked what was Silas if Methos was the brains and Kronos the heart of the Horsemen, he replied the a**hole!
Richard has appeared on Red Dwarf, first as a voice over for a computer and later to get his brains sucked out. He said of all the Horsemen, he had bonded most with Marcus, as they had more free time than Peter and Valentine. They had found this Irish pub.... When he auditioned for the part of Silas, the scene he read was the monkey scene.
He said he liked horses, but doubted he would ride again after an accident making his latest film, where he had broken a vertebra. They were supposed to have had time on Highlander to get used to the horses, but the pressures on time meant that never happened. His biggest problem had been with the two axes on his back in the Bronze Age sequence, as they got in the way. When asked, he did the Silas laugh and I'm not sure it was just my imagination that the building shook.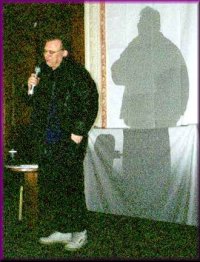 He appeared in Fierce Creatures, the follow up to A Fish Called Wanda, and said that they changed the ending, as originally Kevin Kline got "rhinoed" (??!) twice. He said he didn't get the monkey in that film either, as the gorilla he worked with came complete with six operators. He had the most fun making Erik The Viking, but his latest film was Joan Of Arc for Luc Besson, during the making of which he got thrown off his horse and hit by a golf ball. He plays one of Joan's supporters, called The Rage in French, (which I make to be la Fureur). He found the armour difficult to wear. He likes to use axes and suggests them to directors as an alternative to swords, but Luc Besson wasn't interested, so Richard used a sword this time. He later said that he had suggested an axe for Silas and that Braun had had great fun designing the axe. The axes made for the Bronze Age sequences were too small and they had had to make a larger one for him to use in the present day scenes.
Richard appeared with the Royal Shakespeare Company at Stratford-upon-Avon. He said he had enjoyed King Lear and Troilus & Cressida, in which he played Ajax, complete with axe. He appeared in the BBC comedy drama Common As Muck and said that he felt the series had been blessed with honed writing, as well as an excellent cast with a great team spirit. He has just finished working on a four hour mini-series about the police hunt for the Yorkshire Ripper and why it took so long to catch Sutcliffe. Richard plays Dick Holland, the second-in-command of the police unit. He said that the film Up & Under had been filmed in only 5 weeks and had been filmed in January. As the last 20 minutes of the story is set at a rugby match, he said that they were very cold standing around between takes.
Asked about his dream role, he said that he would like to play someone pretty or with a waistline, although he did add that he had lost 6 stone, (that's 84 pounds in American), once, only to find that he was getting no parts, as people expected him to be bigger. So, there was only one thing for it - stop going to the gym and start going to the pub. He worked in repertory early in his career, but had also done a one man show, which was about a prisoner talking to the audience from his cell.
Richard was the most mobile of the guests, grabbing a radio mike from the stewards and diving into the audience on a couple of occasions. He was asked about driving to the Bordeaux set with a towel over his head and said that it was raining - later, Valentine had a different take on that. He also told the story about the first rule of great drama. He said that, in rehearsals, Peter kept leaving a longer and longer gap between the question and the answer, so Richard, who had no lines, started ad-libbing his own set. Wear nice frocks and get cash in advance were two of the suggestions.
Far from nice frocks, Richard had problems with Silas' modern day outfit in Revelation 6:8. The designer wanted to dress him in greens and browns and found these corduroy trousers for him, but they didn't really fit and kept splitting, meaning that the wardrobe mistress kept having to sew him back into them. Apparently, she would stitch them up with Richard still wearing them, but managed to avoid sticking him at all. Which is more than can be said for Valentine. During the filming of the "we share everything" scene, the daylight started to fade and the director wanted to get the scene finished. He kept getting the camera closer to the actors with each take, which meant tat Richard and Marcus had to stand together. When Valentine brought down the sword on the cloth, he didn't realise that Richard had the cloth wrapped round his hand and hit him on the side of the thumb with the sword. Fortunately, he didn't do too much damage. Richard had other problems during filming in the submarine base - not speaking French, he didn't realise that the sentence at the bottom of the call sheet said "Be careful of the rotten gangplanks" and went through the floor at one stage, requiring the wardrobe mistress to once again repair his trousers.
Asked about people he admired, he mentioned Dean Richard, a rugby player for Leicester, Peter Gabriel and James Taylor from the music world and Sean Connery. Richard is a musician himself and, when asked to sing, gave a rendition of "Abide With Me" that really shook the walls and received great applause. He said he had enjoyed the convention and had been surprised at the show's fan base - he was pleased and flattered to have been asked.
He said that Adrian was a very good director and knows what he wants. This enabled him to work faster and hence get more done than some other people. He said Adrian was very clear about what he wanted. Asked if he preferred stage or screen, Richard said that he liked a variety, enjoying both studio and stage work, but that he had done no stage work since his RSC days. He is building a recording studio at his home and is launching his own record label. He dived into the audience again at this pint and vanished as he sat down in the middle of a row, as people around asked the questions. He will be launching his own web site in the near future. Asked about practical jokes, he said there hadn't been any he could think of whilst he was appearing on Highlander, but during the filming of the Ripper miniseries, he had been filming some forensic scenes and, to make taking off the latex gloves easier, they used talcum powder. One of the other actors filled Richard's glove with talc, so that when he took it off, he disappeared in a white cloud. He said that the bear hug he gave Peter in Revelation 6:8 wasn't in the script, but it looked good, so they left it in.