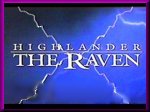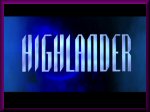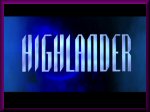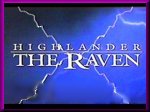 Michael J Jackson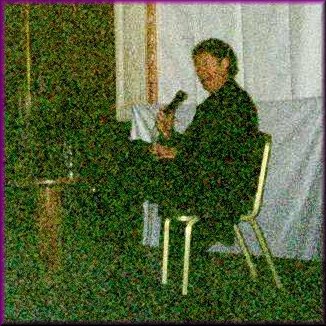 The barrage of camera flashes that greeted Michael prompted him to remind us that he was Michael J Jackson, not the other Michael Jackson. He has just finished three years on British soap Brookside and told how he had snuck off each time he had been asked to appear on Highlander without telling the producers - to this day, he doesn't think they know. He said he hadn't known about the plans to bring Sean Burns back for To Be / Not To Be and seemed genuinely surprised that it had been mooted. He had become bored with Brookside and would have tried to be available, had he known. He had a tremendous time filming Highlander and said that the crew were lunatics, filming at a fantastic pace. He had just dived in and gone with the flow.
Of Brookside, he said that it had a tremendous storyline, but it did seem that the writers sat down and thought "who can we get this week?". In his time on the show, he had storylines involving incest and then they gave his character, Ollie, a venereal disease. Not the happiest of characters and he found the perpetual bickering between Ollie and his first wife very tiring. He was paranoid that people would confuse the character and the storylines with him, but nobody had minded, except one guy in Ireland who had given him some abuse. With Brookside, they were filming 90 minutes of television a week and he wasn't surprised that six seasons of Highlander had brought Adrian to his knees.
Asked about coming to a long running series, he said that you could tell quickly how it was going to go. When he arrived, the first person he met was Peter Wingfield and they got on very well. It was easy for him - all he had to do was come in and lose his head! He had been cast so quickly to play Sean Burns that he had had no time to research the part and, as he had never played that kind of role before, had based Sean solely what was in the script. He joked that although he had personal experience of therapy during a stay in New York, he wouldn't have liked to have to analyse Methos. He said that it had been a complete joy working on Highlander. He had dinner with Peter on the first night and that there was a strange thing that happened in such cases. You go to a location and meet complete strangers, so you can be open and honest with them. You learn about each other, swap numbers and then hardly ever see them again. He enjoys the opportunity to meet extraordinary people in this way, such as Roger Daltrey, who he met when filming Till Death. They were filming in Chablis and staying at a converted monastery, where the wines with dinner each night were superb. He said Roger's stories made him feel that his life had been very boring.
He didn't go to drama school, but was at London University and moved into acting by accident. He appeared in a series called "Wish Me Luck" and has appeared mostly on TV - he has not acted on stage for 7 years, as he gets bored quickly. He appeared in a British series filmed in Washington called Glory Boys and had stayed in New York for a while after that. He felt that actors weren't poorly paid, but it was a question of how long it has to last - Adrian has been doing Highlander for five years and, after three years of Ollie Simpson, he's not sure what the future holds for him. His heroes are people like Al Pacino and DeNiro, but he had wanted to be a footballer in his younger days and he now has a deal with the BBC to produce a series about football - he's a Liverpool supporter, (unlike Peter, who interrupted proceedings on the Sunday to announce gleefully that Nicholas Anelka of Arsenal had scored).
Although Michael didn't get to fight with a sword as Sean Burns and couldn't imagine Sean with one, his first role on TV was in Richard The Lionheart and he later appeared in The Adventures Of Robin Hood, so he was quite familiar with using one. The Sheriff in Robin Hood was one Paul Darrow, later to play Avon in Blake's Seven, but Michael denied that he had been the one in the tub with Darrow! Michael also appeared in Dr Who, in an episode entitled The King's Daemons. He said that he had to do a deathbed scene with Isla Blair, who was no help when he got the giggles and infuriated director Tony Virgo. His reputation hadn't been helped as he told them that he could ride - well, he'd been on a horse before - but he was found out when the horse bolted with him clinging on for grim death. He was later invited to appear at a Dr Who convention, but he wasn't able to make that and so Chronicles was his first convention. He said that he had turned down David Simons' offer to tell him what to expect, in favour of diving in and seeing for himself. David had told him to bring 500 8x10s and when he asked for them, his agent thought his ego had gone through the roof!
Asked about the show he'd most liked doing, he immediately replied "Highlander!", before going on to say that it definitely wasn't Brookside. He had enjoyed his time on Wish Me Luck, which had filmed its first season in Brittany and Normandy, the second around Toulouse and the third in an area of France called Vercourt, which he felt was especially lovely. He remembered doing a commercial for Barclaycard, but the casting call was so chaotic that he refused to read and told Frank Rodham, the director, exactly what he thought before leaving. To his surprise, he got the job - playing a ferociously bad tempered journalist!
He said that filming on Brookside was quite unlike anything else. Mersey TV pay very low wages and use a lot of trainees. Of Highlander, he said that it was a wild shoot, with such a quick turnaround. He used to get an early call, then he would have to wait around. He felt this wasn't so bad for the guests, but could see how this would be very wearing on Adrian after six months. He had been given no background to Sean Burns and had seen only two episodes of Highlander before the audition. Dennis Berry had succumbed to a catastrophe and so he had auditioned to the camera, which he found strange. He felt that Highlander was beautifully shot and had very high production values.
He would love to be in a Western, if he had the chance. When asked about his favourite US actor, he said Jack Nicholson, as he had just seen As Good As It Gets, although he admitted that there were really too many to choose from.